Did you catch this Wednesday's episode on our Cosmic Cauldron podcast? If not, it's not too late! You can find us on Spotify, Apple, and Anchor. In this week's episode, host Jaime Amanda and Charlotte Wilde cover the origins of Ostara, as well as pieces that you may recognize as Easter and ways to celebrate this sabbat.
Names: Ostara + Spring Equinox
Themes: Hope, Renewal, Rebirth
Celebrated: Between 3/19 – 3/22
Ostara occurs on the Spring Equinox, so the exact date will vary. As an equinox, the length of day and night are equal. This is also considered a "Lesser Sabbat" as it does not occur on a cross-quarter day when the energy is believed to be most potent. However, if you're incorporating sabbats into your practice as a way to celebrate and honor Mother Earth, this is an excellent sabbat to do just that.
Ostara is about fresh starts and new beginnings. Remember, you do not have to celebrate the sabbats in a way that doesn't align with your practice or even at all. But, if you choose to do so, focus on making it your own. Your seasons could vary greatly depending on where you are at on this globe. So, honor the earth around you given your current coordinates. Focus on ways in which you can renew yourself, your surroundings, or your mindset. These subtle shifts will be assisted by the Spring Equinox.
Like most sabbats, Ostara origins are speculative and culminate many celebrations throughout history — spanning multiple cultures! While Ostara is frequently attributed to the Germanic or Anglo-Saxon goddess Eostre, there are many other gods and goddesses that rule over this season. So, don't feel pigeonholed to one particular deity.
Ostara Deities: 
✰ Asase Yaa (Ashanti): Ghana Earth Goddess
✰ Cybele (Roman): Mother Goddess of Rome Brutal
✰ Eostre (Germanic): Spring Goddess
✰ Freya (Norse): Fertility Goddess
✰ Osiris (Egyptian): Lover of Isis; King of Egyptian Gods
✰ Saraswat (Hindu): Goddess of Arts, Wisdom, and Learning
Correspondences:
Colors: Pastels
Stones: Amethyst, Aquamarine, Amazonite, Jasper, Tigers Eye, Moonstone, Rose Quartz, Moss Agate
Herbs: Moss, Lemongrass, Catnip, Spearmint, Dogwood
Flowers: Honeysuckle, Tulips, Violets, Easter Lilies, Roses, Dandelions
Incense: Floral Scents like Jasmine, Rose, and Violet as well as Ginger, Sage, and Citrus
Altar Decor: Spring Flowers, Seeds, Plants, Dyed or Plain Eggs, Rabbits Figurines, Birds, Solar Representations, Ladybugs, Bees
Foods: Eggs, Honey, Greens, Bread, Spring Vegetables, Seeds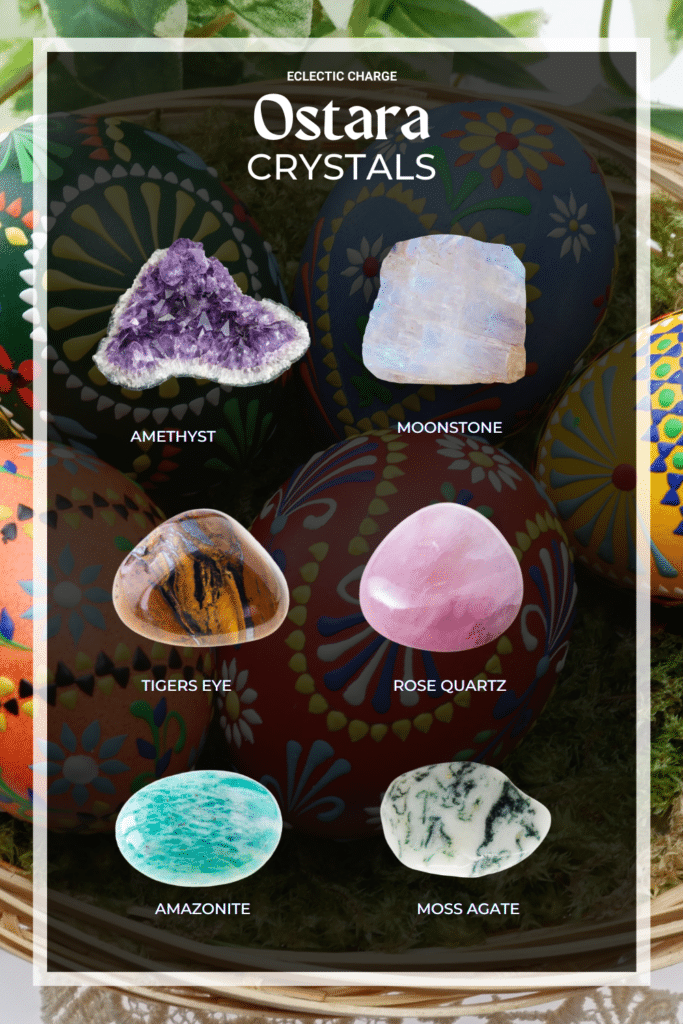 Celebrations:
✰ Paint Eggs
✰ Decorate Altar
✰ Garden
✰ Bake Breads
✰ Plant Flowers
✰ Create Ostara Jar
✰ Get Outdoors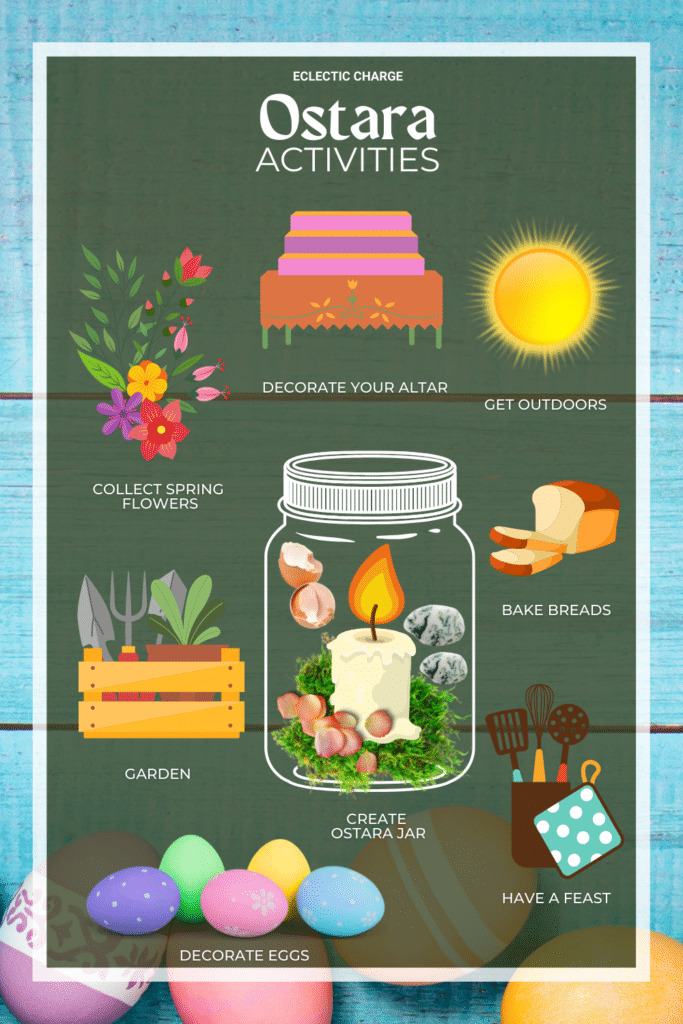 Ostara Jar:
Oh, and about that Ostara Jar we told you about in this week's episode on Cosmic Cauldron! We didn't forget. We even made you a shiny graphic for you to save onto your camera roll or your Pinterest boards.
✰ Eggshells: Rebirth + Protection
✰ Rose Petals: For Love
✰ Moss: Prosperity + Strength
✰ Moss Agate: New Beginnings
✰ Candle: To Represent the Return of the Sun + Fire Element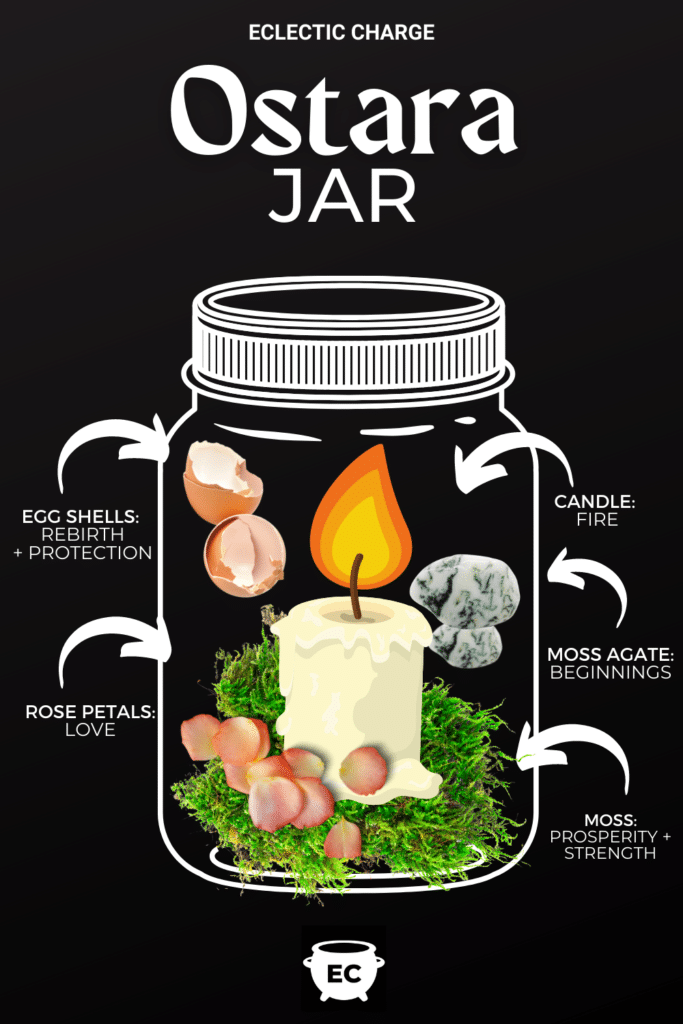 Remember to let us know what you thought of the episode and what you'd like to see next! You can contact us directly here, or you can comment on our Instagram here! We love hearing from you and want to create the kind of content that you want to hear. So, don't be shy. Let us know what you'd like to hear us talk about next.
Until next time!
Blessed be.
—Charlotte Wilde
Works Cited:
Chamberlain, L. (2021). Wicca year of magic: From the wheel of the year to the cycles of the Moon, magic for every occasion. Sterling Ethos.
Wigington, Patti. "Deities of the Spring Equinox." Learn Religions, Sep. 20, 2021, learnreligions.com/deities-of-the-spring-equinox-2562454.